New BMW X5 Inventory - Irvine BMW
The updated BMW X5 is now available at Irvine BMW, and it comes with several new touches that push the design forward and enhance luxury and convenience for all of your travels around Laguna Beach and San Juan Capistrano. This mid-size SUV has been giving Mission Viejo drivers a strong sense of luxury and capability for generations, and the latest model takes the BMW X5 further than ever.
Performance and Handling
Powering the base trim of the X5 is a substantial 3.0-liter turbocharged inline-6 engine that produces 335 horsepower and 330 pound-feet of torque. This base powertrain works with an eight-speed automatic transmission and (in its most basic configuration) rear-wheel drive. Drivers can look forward to available all-wheel drive with the base 3.0-liter turbocharged inline-6 engine. The next most powerful engine available with X5 is a 4.4-liter twin-turbocharged V8 that manages 456 horsepower and 479 pound-feet of torque. The most powerful engine available with the X5 is a variation of the 4.4-liter twin-turbocharged V8 (523 horsepower/553 pound-feet of torque), which comes with the M50i trim.
In addition to the trio of powerful engine options, the new BMW X5 also gets updated suspension settings for the new model year. Offering more cornering stability and improved ride quality, the revised springs, shocks, and geometry allow for all aspects of your driving experience to be improved over previous models. The steering components have also seen an upgrade, allowing for more feel through the wheel without being too harsh or jarring; just enough feedback to let you know what the tires are dealing with.
---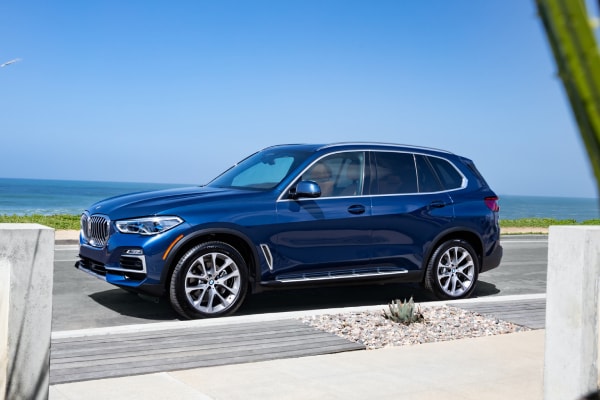 New Technology
The updated iDrive8 infotainment and user interface now includes more intuitive voice commands that learn your speech rather than you learning rigid commands. You can say things like "Hey BMW, it's warm in here," or "Hey BMW, we'd like a hotel for tonight", and your car can adjust climate settings, find nearby destinations matching your requests, and so much more. Plus, it learns your speech patterns over time, so the more you use it the more intuitive it becomes.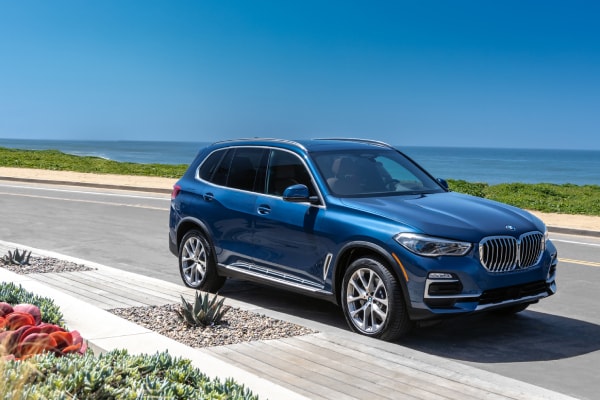 Premium Luxury
The latest BMW X5 offers spacious seating both in the front and rear seats, but this luxury SUV is about more than just space alone. You'll also get power-adjustable front seats with memory function as standard. Heated and ventilated front and rear seats are available for even greater comfort. Upgraded door seals, bushings, and acoustic glass create a cryo-chamber cabin that isolates you from road noise and creates a serene space inside. You can even add heated front armrests and a heated steering wheel to enhance the luxurious feel of your BMW X5 for every drive.
Cruise Laguna Beach in Luxury with a New BMW X5
BMW X5 Trim Levels
There are three basic trim levels available with the new BMW X5 lineup, with a standard model, a hybrid option, and the sport-tuned M-Performance model.
The BMW X5 sDrive40i sports a turbocharged inline-six cylinder engine that delivers 335 horsepower and 369 pound-feet of torque. It can also be had with xDrive all-wheel drive, and that four-wheeled performance gives you rapid acceleration of zero to 60 mph in just 4.8 seconds.
Turning our attention to the BMW X5 xDrive45e, you'll find an electric motor has been tacked onto the turbocharged six-cylinder powerplant to combine for 389 horsepower and 395 pound-feet of torque. This setup also improves city fuel efficiency thanks to the hybrid power, so if you often find yourself mired in traffic this may be a great choice for helping your fuel budget.
Finally, we have the M-Performance tuned BMW X5 M50i. A twin-turbo 4.4-liter V8 powerhouse churns out 523 horsepower and 516 pound-feet of torque, accelerating you to 60 mph in under four seconds.
Advanced Safety Features
The latest BMW X5 comes with more standard safety equipment than any that's come before. You'll get forward collision warning with pedestrian detection and automatic emergency braking, radar cruise control with stop and go capability, and blind spot monitoring with rear cross traffic alert on every new BMW X5 model.
Visit Our Dealership Today!
Take a test drive in the SUV that will make all your drives around Lake Forest and Mission Viejo a joy. Visit Irvine BMW to see the latest BMW X5 in action today!